Ok ladies… Like you may have seen in the forum, that it all got a little delayed!! Gina just wants her goodies to be P E R F E C T!! And to be honest I love that about her…The quality she delivers is always the BEST you can get…
So here we go… Have you seen it in the shoppe already?? It's awesome and such a cool idea. Let me introduce: LIFE 365 – Monthly Summaries. She's made a version where you can 'build it yourself' or get the quickpages and all you need to do with those is plop your photos on there… let me show you.
LIFE 365 – 'Build It Yourself' Monthly Summary
As you can see on the preview she made step-by-step instructions for you how to use these… And I can tell it's so easy to use and love how you can use use as you wish. I couldn't resist and grabbed them right away. I decided to start each month of my book (to be) with a monthly summary like this. Here's what I did with it (of course the black blocks will be filled when the month is over)
Then here is the 'LIFE 365 – Quick Page Templates – Monthly Summaries set'. The work is ALL done for you with these easy-to-use QuickPage Templates. These are flattened QuickPages, EXCEPT the layered photo templates, date numbers and journaling suggestions (in a PSD file), so you can slide your photos in and be done in a flash. All 12 Months of the 2009 Calendar in whimsical colors… Just add a little section of your daily photos, a little journaling, a couple elements and you are done!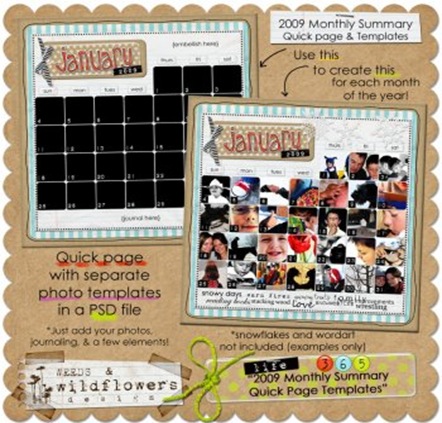 Gina added this cute hint to the store's description:
*Hint – If you put only a small piece of the photo, it makes it fun to guess what the actual photo looks like when you go to that page in your LIFE 365 book!
CLOSED!!!So who wants a chance to win one of these two sets??? Simply leave me a comment here and tell me which set you prefer and how you are going to use these monthly pages… Tomorrow I will be back to pick three lucky ladies who will get one of these sets!!!CLOSED
—————————————————————–
!!!So here I am to announce the winners….drumroll please….
The winner of the 'LIFE 365 – Quick Page Templates – Monthly Summaries set' is: !! Stephanie (schock77) !!
Two ladies have won the LIFE 365 – 'Build It Yourself' Monthly Summary, they are: !! pennyshilling & Leslie (lhaslem) !!
Congrats ladies and will be sending out to codes to these wonderful packs this week! Thanks everyone for playing!
—————————————————————-
Now before I'm heading out I spotted this thread in the forum today by Rachel (Athenagwis). She already used this fabulous 'built it yourself' kit and came up with this great idea… She's making two pages of each month and is going to use the first page for each day's pic and then the second page has a one or two word explanation of the pic. I love this idea and it looks way cute!! Check out here pages…TFS Rachel!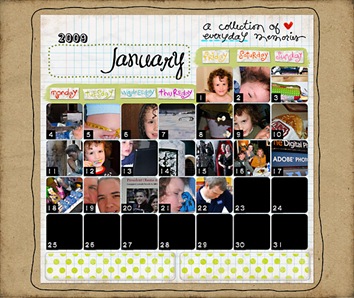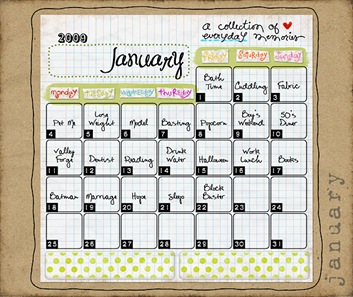 Now ladies, can't wait to hear from you and wish you all a great day/night wherever you are! 🙂 Hugs Petra